BRYAN15 aka LEAKY DELTS
Growing up in the worlds of collegiate football and USA Rugby League in the early 2000's, Bryan had resorted to marathon training sessions to continue to improve his fitness; often completing 30 to 40 sets with weights, followed by wind sprints and drills and 5 mile runs when he realized there had to be a better way.
Embarking on a quest to "work smarter and safer, not harder", Bryan immersed himself in the science of training, nutrition and ultimately supplementation and performance enhancement.  Cutting through the rumors, misinformation and outright BS of the fitness world became an obsession, as everything had to be tested and verified or rejected with first hand experience.
As the experimentation continued and his experience grew to be vast, results increased exponentially while training time dropped to less than an hour per day.  Everyone wanted to know what he was doing differently, and soon thereafter, sharing his wealth of experience and expansive knowledge to help others became a past time, and saving others from repeating his own mistakes a passion.
Connecting with Behemothlabz was the next logical step.  As an industry leader and a company trusted by customers around the world for over 7 years, Bryan feels confident recommending high quality Behemothlabz products to fellow enthusiasts embarking on the journey to the next level.
FOLLOW ME!
SAM RIDGEWAY
---
Owner of Viking Alternative Medicine • Youtube Channel LiveLikeAViking • Army Veteran • Entrepreneur
---
From a humble beginning at 50 years old, Sam Ridgeway made the decision to change his life. Diagnosed with a plethora of medical conditions including high blood pressure, high cholesterol, pre-diabetes… Sam found himself in the same position thousands of other middle aged men are in today. Fast forward a year and a half and through hard work, determination, and the magic of science, Sam has turned his entire life around. He now has no medical conditions and his blood work is that of a perfectly healthy 30 year old. He attributes a vast majority of his success to Hormone Replacement Therapy and the extensive product line offered by Behemothlabz.com. Through his YouTube Channel, LiveLikeAViking, Website, and Hormone Replacement Clinic, Viking Alternative Medicine… Sam has had the pleasure of helping literally hundreds of Middle Aged Men get their lives back on track to becoming healthy, energetic, strong, and mentally focused once again. As Sam preaches, "You're never so far into the "Abyss" that you can't turn things around with the purity, selection, and pricing of SARM's and Peptides offered by Behemothlabz.com."
FOLLOW ME!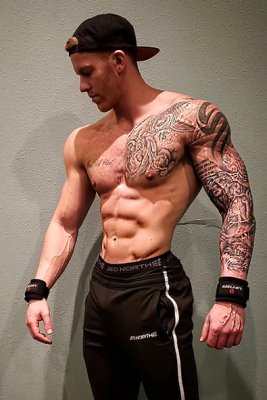 KENNY K.O.
Kenny is a Youtube and Instagram influencer .
Passionate about exposing fake instagram influencers, Kenny is dedicated to showing his 350+K  followers what is natural and what is fake in the world of body beauty.
Kenny recently  placed 1st  in Mens Physique Open, and 2nd across all classes at 2019 NPC Mother Lode, qualifying him for Nationals.
FOLLOW ME!